Obituary for Tom Sherman
April 19, 2022
Thomas Edward "Tom" Sherman, age 76 of Norman, passed away Tuesday, April 12, 2022. He was born January 10, 1946 in Oklahoma City, the oldest of three sons born to Earl Lavell Sherman and Ellen Bell (Barney) Sherman. He was raised in Purcell and attended school there, graduating with the Dragon's Class of 1964. Tom attended the University of Oklahoma for a semester, before answering the call to service. He joined the United States Navy, and proudly served his country. By chance, while on a blind date, he met a young lady named Dee Dee LeGate. Tom knew she was the one, and after just three dates, he proposed. Tom and Dee Dee were married on December 15, 1968, at the First Christian Church in Tulsa. Their first home was in Key West, Florida, and then they were off to Rota, Spain while Tom was on active duty. After his honorable discharge from the Navy, would return to OU where he earned his Bachelor's Degree in Business Administration in 1977. Tom and Dee Dee raised two sons, Brian Jeffrey and Thomas Christian. After graduation from OU, Tom began a long and distinguished career in banking, serving in Newcastle, Tulsa, Oklahoma City and Norman. He cared about his community and stayed active, serving in many capacities. He was a member of the Norman Regional Hospital Board and the Norman Chamber of Commerce, and at one time ran for Mayor of Norman. Tom was a man of great faith, and longtime member of St. John's Episcopal Church in Norman. When he wasn't working, Tom was probably cheering on his Sooners. He especially loved OU Football and was a season ticket holder since the mid 1960's. He was a family man first; he cherished Dee Dee, his boys, and was a proud grandfather. Tom was a staple at any and all events that involved his kids and grandkids, from track meets and football games with his boys in the 80's & 90's to every grandchild event he could attend from Shawnee to Philadelphia. He will be dearly missed!
He was preceded in death by: his wife, Dee Dee of the home; his parents, Earl and Ellen Bell Sherman and brother, Joe Sherman.
Tom is survived by: his boys, Jeff Sherman and wife Melissa of Kennett Square, PA and Chris Sherman and wife Nicki of Shawnee, OK; Brother, Charles Sherman of Purcell; his pride and joy, grandchildren, Emma, Harper, Abby, Maggie, Brady and Mirielle; and many nieces, nephews, cousins and friends.
A Celebration of Life Memorial Service is scheduled for 2:00 P.M. Tuesday, April 26, 2022, at St. John's Episcopal Church in Norman. In lieu of flowers, memorials may be made to St. John's Episcopal Church Foundation, 235 W. Duffy St., Norman, OK, 73069, or to the charity of your choice. Send online condolences at www.wilsonlittle.com.
Tom Sherman Passes Away
April 13, 2022
We lost a dear member of our bank family yesterday. Longtime employee, retiree, and bank director Tom Sherman passed away Tuesday, April 12, 2022. He was on hand just a few weeks ago celebrating the bank's 100th anniversary. Please keep the Sherman family and our McClain Bank family in your thoughts and prayers.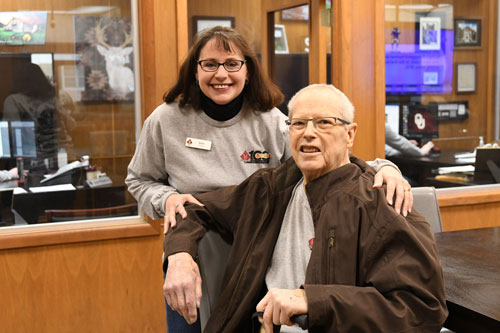 McClain Bank Celebrating 100 Years
February 25, 2022
McClain Bank is celebrating 100 years! In honor of this historic landmark, we are hosting street bashes on Tuesday, March 8, from 11 am - 2 pm. We will have food trucks, prizes, and give-aways. The events will be at the Main Bank in Purcell (131 W Main), the Norman Branch (2900 W Lindsey), and the Noble Branch (213 N Main).  
We also have a display in the lobby area of the Main Bank portraying our history. Stop in on the 8th or check it out the next time you're in.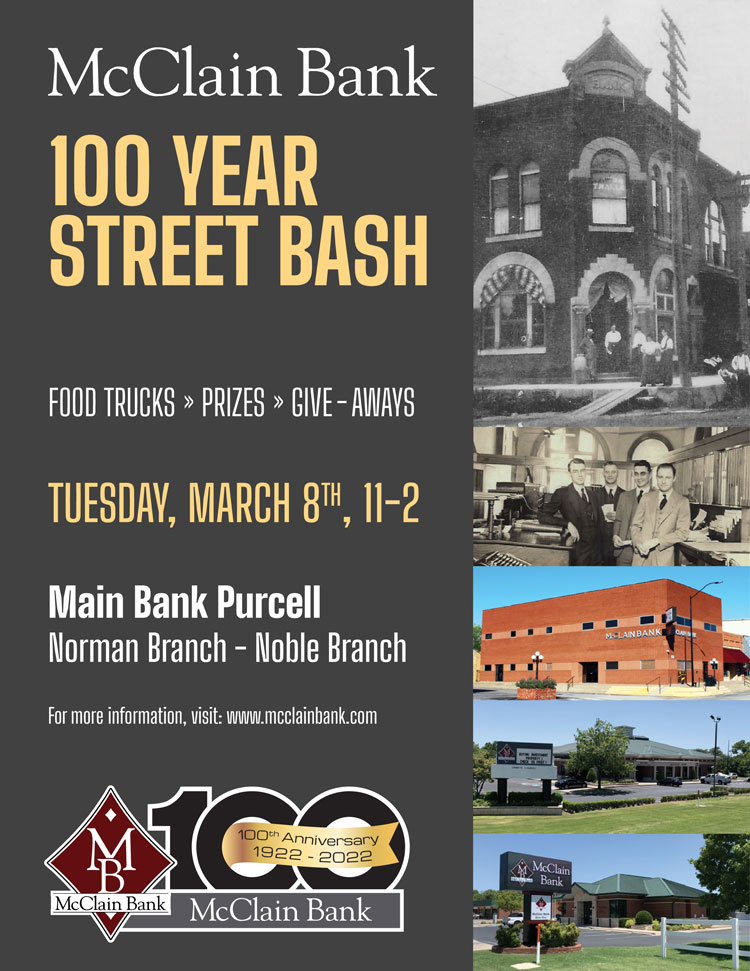 ---
Main Bank Lobby Closing Saturdays
December 2, 2021
Effective January 1, 2021, the Main Bank Lobby will not be open on Saturdays.
On Saturdays, please visit our Drive-thru locations, open 7:30 am - 12:00 pm.
Purcell Drive-thru, 200 N 3rd St
Norman Branch, 2900 W Lindsey
Noble Branch, 213 N Main
---
 
Service Update: Mailed Bank Statements
Tuesday, October 12, 2021
The United States Postal Service has revised service standards for certain First Class Mail items. Beginning October 1, the postal service's new delivery standard could result in a window of up to five days for mailed bank statements. 
To enroll in eStatements -
Log-in to Online or Mobile Banking. Select the appropriate account, then click Documents. The Enrollment screen will popup. Complete the following:

#2 - Verify your email address.
#3 - Enter a Security Phrase.
#4 - Enter the passcode 'eDocs' in the box.
Then scroll down, click Agree to Terms, and click Enroll Now. You'll receive a confirmation email, no action is required.

Your first eStatement will generate with your next statement cycle. In the near future, our system will build back 18 months.

Available documents will be listed under the eStatements/Notices tab. At the top you'll also find options to signup/change available accounts, change email settings, and add/change additional recipients.

Pro tip: If you have multiple accounts eligible for eStatements, click the drop-down menu above the available documents list. Your default/selected account will be showing, but when you click you can select another eligible account.

If you have any questions, or need any assistance enrolling, please feel free to reach out. 
---

Digital Banking Now Live
Wednesday, June 23, 2021
Our new Online & Mobile Banking platforms went live June 15. They. Are. Awesome! For more information, including step-by-step instructions and screenshots for first-time login, visit our new Online & Mobile Banking page.
---
Digital Banking Update
Tuesday, June 1, 2021
Your banking experience should be smooth, secure and the same on all your devices. That's why on June 15, 2021, McClain Bank will be upgrading all accounts to our new Digital Banking Suite - free of charge.
It's a seamless enhancement across platforms.
No matter where you are or what device you want to use, you can:
View your balances
Transfer funds
Deposit checks
Make payments to and from a company or a friend
Our new Digital Banking Suite will also include new features, such as:
Transaction organization with tags, notes and photos of receipts and checks
Personalized debit card rules and alerts
Debit card travel notices
Bank to Bank transfers
Secure messaging and conversations with bank staff
Here's what you need to know before our Digital Banking Suite upgrade:
Your username/ID and password for online and mobile banking will stay the same.

You'll need to log in with this information before you can use features like Touch ID or Face ID. If you don't remember your login credentials, just give us a call.

When your mobile banking app upgrade is ready to go, our app will ask you to download the new version - McClain Bank Anywhere.
If you use bill pay, your existing bill payments and payees will automatically copy to the new system.
We are so excited to offer this new upgraded service to you. If you have any questions, please feel free to reach out.
Mobile Banking Reminders
June 16, 2020
The FBI's Internet Crime Complaint Center has released a Public Service Announcement (PSA) concerning mobile banking app safety.
They state, "Studies of US financial data indicate a 50 percent surge in mobile banking since the beginning of 2020. Additionally, studies indicate 36 percent of Americans plan to use mobile tools to conduct banking activities, and 20 percent plan to visit branch locations less often. With city, state, and local governments urging or mandating social distancing, Americans have become more willing to use mobile banking as an alternative to physically visiting branch locations. The FBI expects cyber actors to attempt to exploit new mobile banking customers using a variety of techniques, including app-based banking trojans and fake banking apps."
The PSA suggested these tips to protect yourself:
Obtain Apps from Trusted Sources
Use Two-Factor Authentication
Use Strong Passwords and Good Password Security
If a Banking App Appears Suspicious, Call the Bank
Revised Banking Hours
June 15, 2020
Effective Monday, June 15, 2020, our revised banking hours will be the following:
---
COVID-19 Update March 18
March 18, 2020
As a preventive measure in response to COVID-19, effective Thursday, March 19, our lobbies will be closed. Our drive-thru locations at Purcell, Norman, and Noble will remain open as scheduled, 7:30 AM to 6:00 PM, Monday-Friday and 7:30 AM to 12:00 PM on Saturdays. We are limiting traffic in our lobbies. Please call if you need to talk to a Banker. If we are unable to help you over the phone, we will be happy to set up an appointment with you.
We further recommend that you utilize all digital banking tools, including online and mobile banking and that you utilize our ATMS. We are here to assist you and are happy to help you with any of your banking needs. Our highest priority is the safety and wellness of our staff, customers, and community. Our phone numbers are: Purcell (405) 527-6503, Norman (405) 447-7283, and Noble (405) 872-2222. Thank you.
---
COVID-19 Update March 13
March 13, 2020
As we monitor developments with COVID-19, McClain Bank recognizes that some customers may be negatively impacted. As always, our focus involves the well-being of our customers and employees. We continue to monitor the situation and will communicate any updates as appropriate.
We are prepared to assist customers impacted by COVID-19. Should you encounter financial hardship as a result of COVID-19, please call us at (405) 527-6503.
As much as we enjoy seeing you face-to face at our branches we know at this time you may prefer to minimize your daily interactions. We completely understand and recommend that you utilize all available tools and resources via our Mobile and Online banking services. These channels allow you 24/7 access to check balances, transfer funds, pay bills, or deposit checks. More information can be found at our website. We also have our drive-thru locations available in Purcell, Norman & Noble. We recommend using ACH and direct deposit where available to ensure that your paycheck or other regular deposits remain secure and uninterrupted. Utilizing these services help limit any close contact interaction.
Always keep in mind the safest place for your money is in an FDIC-insured bank. McClain Bank is classified as a "well capitalized bank", which means we have the financial strength and abundant resources to continue operating and serving our customers through all types of economic conditions.
We have contingency plans in place that are designed to prevent service disruptions. We continue to share pertinent wellness information with our employees, including guidance from multiple government and healthcare-related entities such as the Centers for Disease Control (CDC) and federal, state and local agencies. Management is monitoring the latest information available while testing the bank's contingency plans.
For more information on COVID-19, visit the Centers for Disease Control and Prevention (CDC) website. The CDC recommends steps to help prevent the spread of respiratory diseases.
While it remains challenging to understand the potential impact of COVID-19, it does not alter our focus of serving you. We have the people, technology, and products to accomplish this, and your continued trust in our bank remains appreciated.
---
Debit Card Fraudulent Transactions
December 26, 2019
In the early morning of December 26, 2019, we experienced a large number of fraudulent debit card transactions. You may have received an email, text or phone call from our Fraud Department. If you were not contacted, rest assured your card was not affected by this incident.
If you were contacted, please visit our Main Bank in Purcell, the Norman Branch, or Noble Branch to have a new card issued as your current card has been deactivated. We are sorry for the inconvenience.
---
Debit Card Fraud System Update
April 11, 2019
Our Debit Card Fraud System is being updated on April 22, 2019 and will result in changes to Fraud Center telephone and text numbers. You will want to update your Fraud Center cell phone contact info. Please call and talk to Customer Service at (405) 527-6503 for the new numbers or for more information.
---
Livestock Shows
February 12, 2019
It's Livestock Show time. Here's the schedule for events in our area:
February 16th 10:30 am Noble FFA local show and pie auction

February 17th 1:30 pm Lexington FFA local show and pie auction

February 19th 6:00 pm Purcell FFA dinner and bonus auction

February 22nd 5:30 pm Cleveland County Jr. Livestock Bonus Auction

February 26th 5:30 pm Washington FFA dinner and bonus auction

March 2nd 5:30 pm Wayne FFA dinner and bonus auction
---
Cops for Kids
November 27, 2018

McClain Bank is partnering with the Norman Police Department and collecting Gifts and Donations for Christmas! Items can be dropped off at our Norman Branch, located at 2900 W Lindsey, just west of I-35. Merry Early-Christmas!
Unwrapped toys for kids aged 0-13.
No clothing, food, or drinks.
Deadline is Friday, Dec 14th.
Checks should be made payable to "Bratcher-Miner FOP Lodge #122" with memo "Christmas Committee."
---
Norman Branch Shaved Ice & Shred Day
June 20, 2018

What better way to kick-off the Fourth of July holiday than with free shaved ice and paper shredding! Join us on Tuesday, July 3rd, at the Norman Branch for Shaved Ice and Shred Day.
Kona Ice will be there from 11-2 with free shaved ice! And Absolute Data will be on site 11-3 to help you get rid of all that personal paper items and documents you have piling up.
If you have any questions, please call the Norman Branch at 447-7283 for more details. See you there!
---
Jace Woodrow Graduates from LMA
May 3, 2018

Jace Woodrow, McClain Bank Credit Analyst, recently graduated from Leadership Mid-America Class XXI. LMA is a community leadership development program devoted to developing and uniting regional leaders. Congratulations Jace!
---
BASCO Achievement Award Presented to Ann Swanson
January 30, 2018

McClain Bank Senior Vice President & Mortgage Originator Ann Swanson was presented with the Builders Association of South Central Oklahoma Achievement Award at the BASCO Annual Awards Banquet, held January 24, at Southwind Hills in Goldsby. This is awarded to long standing BASCO members that have served for many years. Ann has served on the Board for numerous years, just stepping down at the end of 2017, and acted as the Affiliate Representative for several terms. Well deserved Ann!
---
Equifax Data Breach
September 18, 2017

On September 7th, 2017, Equifax, one of the three national consumer credit reporting agencies, announced a major data breach. This breach affects approximately 143 million Americans. This is what we know according to Equifax: the data breach occurred May – July 2017, and the information stolen includes consumers' personally identifiable information, including names, Social Security numbers, dates of birth, addresses and, in some cases, driver's license numbers. Approximately 209,000 credit card numbers and dispute documents with personally identifiable information for approximately 182,000 consumers were also stolen. There is no evidence of unauthorized access to consumers' credit reporting databases.
To be clear, McClain Bank was not compromised and your information was not stolen from our bank. However, McClain Bank takes the security of our customer information very seriously, and we are providing you with what we know about this massive breach and the steps you can take to protect your personally identifiable information.
Equifax has established a website that informs consumers if they may be affected by the breach, provides additional information on the breach, and offers complimentary identity theft protection and credit file monitoring for one year. This information is available at www.equifaxsecurity2017.com. To protect your identity and personal information, McClain Bank strongly encourages our customers to take note of the items below.
Review your account statements to spot any suspicious transactions. You can also monitor your account activity online at any time at www.mcclainbank.com or on our mobile app. If you spot any suspicious transactions, please contact us immediately at (405) 527-6503.

Be on guard for suspicious emails or phone calls that try to trick you into disclosing personal information. With a data breach of this scale, many of us will receive emails and calls that claim to be from Equifax or our banks or creditors or law enforcement, and ask us to click on links or fill out forms or provide even more personal information. Also, look through your mail more closely for anything new or unusual. If you receive a welcome letter or notice of a new credit account, this could be a sign of identity theft.

Consider if you should place a fraud alert on your credit report. You can do this by phone or online. You need to contact only one of the bureaus; the first one must contact the other two. A 90-day fraud alert is free.

Experian – www.experian.com/fraudalert or call 1-888-397-3742
TransUnion – www.transunion.com/fraud or call 1-800-680-7289
Equifax – www.equifax.com/creditreportassistance or call 1-888-766-0008

Consider signing up for credit monitoring and identity theft protection beyond the free protection that Equifax has offered. Credit monitoring will alert you to any changes that are made to your credit file on an ongoing basis. McClain Bank offers the Diamond Club account that includes credit monitoring and ID theft protection and insurance through IdentityIQ Pro. Visit www.mcclainbank.com or call us at (405) 527-6503 for more information.

Consider if you should place a freeze on your credit file. This will prevent anyone, even you, from opening a new credit account. (You will need to release the freeze prior to opening a legitimate, new credit account.) You will have to contact each credit bureau individually and they may charge a fee to place a freeze on your account.

Experian: 1-888-397-3742
TransUnion: 1-888-909-8872
Equifax: 1-800-685-1111

Review your credit reports for accuracy. Call any one of the three credit reporting agencies to receive your free annual credit report or visit www.annualcreditreport.gov. You may also request your free annual credit report by calling 1-877-322-8228 or submit a paper request by mail to: Annual Credit Report Request Service, P.O. Box 105281, Atlanta, GA 30348-5281

Notify the credit reporting agencies immediately if you notice or suspect ANY transaction as fraudulent.

If you believe you are the victim of identity theft, contact your local law enforcement office and/or your state attorney general. Equifax has established a dedicated toll-free number to answer questions you may have about the Equifax data breach and its effect on your personally identifiable information. You may call them at 1-866-447-7559.
---
Vickers and Wilhoit Graduate From Banking School
August 8, 2017

Eric Vickers and Kerry Wilhoit, officers at McClain Bank, recently graduated from the Graduate School of Banking at Colorado (GSBC), a 25-month banking school which provides management and leadership training for community-banking professionals. They were among 176 graduates of the 67th Annual School Session, hosted July 16-28 on the campus of the University of Colorado in Boulder, Colo. Eric Vickers currently serves McClain Bank as Senior Vice President/Chief Operations Officer/Cashier and Kerry Wilhoit as Vice President/Loan Officer.
GSBC students are recognized by their bank's executive team as rising stars in their organizations, and as graduates, often continue to become leaders in their respective organizations. A diploma in banking is widely recognized by the banking industry at large, and is a marker of advanced education which hundreds of bank-industry professionals from around the country accomplish each year.
"Completing the coursework and projects associated with the Graduate School of Banking at Colorado is a great accomplishment for community bankers around the country," said GSBC President Tim Koch, "Sponsoring organizations and communities should be very proud of the time and effort our graduates expend during their time in the program."
Graduates receive a diploma upon successfully completing six weeks of classroom training which focuses on the areas of general management and technology, lending, leadership and human-resource management and financial management in banks. Requirements for graduation also include comprehensive examinations, intersession research projects and participation in a bank-management simulation course designed to provide students with experience managing a bank.
---
Perry Nemecek Recognized for 50 Years in Banking
May 25, 2017
Our very own Perry Nemecek was recognized for 50 years in banking at the Oklahoma Bankers Association Convention in Norman on May 24, 2017. Perry started at McClain County National Bank on January 30, 1967, after graduating from East Central State University; and worked full-time for 43 years at the same bank.
When Perry began at the Bank, there were only about 12 employees and his first duties in bookkeeping included filing checks and posting loans. As the bank grew, Perry held a number of positions, became a Bank Board of Director and retired as Executive Vice President, Head of Lending in 2010. He has continued to serve on the Audit Committee and the Bank Board of Directors. Perry always led by example… early to arrive, the last to leave, willing to help co-workers and customers, and was very calm, well mannered, respected and trusted by his co-workers and customers. When asked what advice he would give a young professional just entering the banking business, Perry responded, "Find a bank that serves the community, study what they are doing well and talk to the people that do business with that bank." Great advice, Perry, and congratulations!
---
Phone Scam Alert
April 25, 2017
We were notified yesterday that a customer had received a call from someone posing as a bank representative. Our customer did the right thing and did not share any information with the caller. Scammers can easily 'spoof' caller ID names and numbers using computer software and will try to impersonate a legitimate business to gain a person's trust. In this day and age, we all must take precautions when receiving unprompted phone calls.
Please note - at McClain Bank, we would never cold call an individual and tell them that we could refinance their debt or ask for any personal information. Also, we would never call a customer and have them verify their personal information, social security number, etc.
If you have any questions or concerns, please feel free to call (405) 527-6503 and speak with one of our Customer Service Representatives.
---
Community Appreciation Day 2016
October 12, 2016

McClain Bank invites you to Community Appreciation Day, Saturday, October 22, 2016. We will have free paper shredding, coffee & donuts. The event will be located at our Main Bank, 131 W. Main St, Purcell, from 8:00 am to 11:00 am. We will also be collecting food items for the Purcell Junior High School Food Pantries. Thank you in advance for your generosity.
---
Don Sherman, 1935-2016
September 28, 2016

Donald Neil Sherman (Don) was born in Lexington, OK on July 1, 1935 to May and Neil Sherman. He died on September 24, 2016 at Norman Regional Hospital. Growing up in Purcell, Don graduated from Purcell High School in 1953. He attended the University of Oklahoma where he was a member of Lambda Chi Alpha Fraternity and graduated with a BBA in Finance in1957. At OU he met his wife, Mary. They have been married for fifty-eight years.
Don and Mary lived in Purcell until 1992 when they moved to Norman, their current home. They have a daughter, Elizabeth of Dallas; a son, Donald, and his wife, Carmel, of Purcell and two grandchildren, Katelynne Sherman Yow and husband Mike of Broken Arrow, and Neil Sherman of Tulsa. He is also survived by three nephews, Steve Sherman and his wife, Tracey; James Sherman and his wife, Leslie of South Haven, KS; Scott Angus of St. Louis, MO and a niece, Kristen Best and her husband Steve of Chevy Chase, MD; his brother-in-law Larry Angus and his wife, Gloria of Denver, Co. He was predeceased by his parents, James Neil Sherman and May Mantooth Sherman and his brother, Jim Sherman.
He served on active duty with the United State Army from 1958-60 and again in 1961/62 when his reserve unit was called to active duty due to the construction of the Berlin Wall. A banker for 59 years, Don Sherman was the Chairman of the Board of McClain Bank, a family owned bank, headquartered in Purcell, OK with branches in Norman and Noble. Until his retirement in March of this year, he was CEO.
Don was a Past Member of the Purcell School Board, and a Board Member of the Purcell Hospital, and Past President of the Purcell Chamber of Commerce. He was currently a Trustee of the Norman Regional Hospital Authority and Chaired the Quality and Safety Committee. He was a member of the Sooner Rotary Club, was a past president of the Purcell Rotary Club, and is a Paul Harris Fellow. Don is a past president of the Norman Arts Council, Cleveland County YMCA, the Jacobson House Native American Art Center, the OU Alumni Club of Cleveland County, Cleveland County Chapter of the American Cancer Society, Mary Abbott House, Brookhaven Square 3&4 Homeowners Association and Junior Achievement of Oklahoma City He has also served on the Boards of the Neighbor Service Organization of Oklahoma City Board, the Oklahoma Bankers Association and Price College of Business Board of Visitors at the University of Oklahoma, the national Educational Foundation of Lambda Chi Alpha Fraternity. He was the Co-Chair of the Lambda Chi Alpha Capital Campaign for Gamma Rho Zeta Chapter at OU and a member of the Sigma Phi Building Corporation. Three different times he was been named the outstanding volunteer at the Cleveland County YMCA, received the OU Regent's Alumni Award, and received the Order of Merit from Lambda Chi Alpha Fraternity which is the highest honor given nationally. Don was a gifted artist whose paintings were vibrant and colorful. He was a lifelong Methodist with memberships in Trinity UMC of Purcell, Bridge View UMC in Norman, and currently a member of McFarlin United Methodist Church.
Memorials may be made to the OU Foundation, 100 W. Timberdell Road, Norman, OK 73019 for the Lambda Chi Alpha Don Sherman Brotherhood Scholarship.
---
Online Banking Update
August 15, 2016

Our Online Banking platform has been updated. This new and improved platform employs many new optional widgets as well as a My NetTeller home screen that can be completely personalized. While functionality is the same, we hope you'll enjoy the new look and feel of the site. We are confident you will appreciate the easier navigation. If you'd like more information, please click here for the updated NetTeller Online Banking User Guide. And if you have any questions, comments or concerns, please let us know at (405) 527-6503.
---
Eric Vickers Promoted to SVP/COO
July 5, 2016

Charlie Sherman, McClain Bank CEO, is pleased to announce that Eric Vickers has been promoted to Senior Vice President and Chief Operating Officer. Charlie stated, "Eric has been a key member of the McClain Bank family since he joined us. He has a wealth of knowledge and experience, acquired by working at all locations of the bank. Eric has become the go-to person for operations."
Eric began working at McClain Bank in June 2002 after graduating from Cushing High School. He excelled in Operations and was promoted to Noble Branch Operations Manager in March 2007. In November 2010, he was moved to the Main Bank in Purcell as Financial/Special Projects Officer. Since 2014, he has served as Vice President/Financial Officer/Cashier.
Eric graduated from OU with an Accounting Degree in 2006. In June 2010, he earned his MBA from the Linkoping University in Sweden.
In his role as COO, Eric will be responsible for managing the Bank's day-to-day operations as well as initiatives to improve the Bank's efficiency and enhance customer services, technology and operations.
---
Kelly Nemecek Named Norman Branch Manager
June 27, 2016
Charlie Sherman, CEO, is pleased to announce that Kelly Nemecek has been named Branch Manager of the McClain Bank Norman Branch. Charlie stated, "Kelly is an important part of the McClain Bank team. We look for continued growth in the Norman market under his leadership."
Born in Pauls Valley and raised in Wayne and Purcell, Kelly graduated from Purcell High School in 1984. He is a 1989 graduate of OSU with a Degree in Business, and he completed his MBA from OCU in 2001. His first job was at McClain Bank in the early 1990's, where he worked for over a year before leaving to work at SMU for 4½ years. Kelly returned to Oklahoma in 1996 and began working as a Loan Officer at McClain Bank. He quickly became an Assistant Vice President, and then a Vice President of the Bank. He now serves as a Senior Vice President and is a member of the Board of Directors. Kelly lives in Norman with his wife, Shandy, and their two children, Ryder and Rowan.
When asked why he selected a career in banking, Kelly answered, "There has been a Nemecek working at McClain Bank since 1966, when my father Perry came to work here. Having a first-hand view of what could be accomplished in banking, within our area, was a big motivating factor for me to work here also."
Kelly is a graduate of Leadership Oklahoma (Class XXIII), Leadership Mid-America, and the Oklahoma Banker's Association's Leadership & Management Development Program (Class I). Currently, he is serving as an Advisory Board Member for the Oklahoma Small Business Development Center, and is a member of the OBA's Agricultural Committee. Kelly is also a member of the Norman Sooner Rotary Club.
When asked what he considered the best part of banking, he said, "For me it is establishing relationships with our customers and trying to help them realize their dreams, whether that's someone owning their own business, buying some land, or buying a new vehicle. Banking is a great career field."
In his new role as Branch Manager, Kelly will be responsible for developing and enhancing new and existing banking relationships for business and personal customers in the Norman area. Additionally, he is responsible for coaching, educating and mentoring employees and serving as the senior lender in the branch. Kelly will continue to provide service to his existing customers and can be reached at (405) 527-1579.
---
Promotions Announced
February 18, 2016

Charles Sherman, President of McClain Bank, proudly announces the promotion of four individuals – Kathy Wollenberg to Vice President, Kerry Wilhoit to Vice President, Stephanie Gentry to Assistant Cashier and Eric Selby to Marketing Officer.
Kathy Wollenberg began working as the Bank's Mortgage Loan Department receptionist in October 1992. She later worked in post-closing, loan processing, loan underwriting and in 2008 was promoted to Assistant Vice President. Kathy continued to work in the mortgage department until January 2016 when she was relocated to Purcell to work in Loan Administration within the Loan Department.
Kathy is a graduate of Purcell High School and is a member of Kiwanis and the National Association of Professional Mortgage Women. Kathy and her husband Paul, who is a Teacher and Coach at Purcell Schools, live in Purcell, along with their two daughters, Macey and Cady.
Kerry Wilhoit began his career with McClain Bank in 2008 and has most recently worked in the Lending Department as a Loan Officer. In his role as such, Wilhoit is responsible for serving the financial needs of new and existing customers by collecting and analyzing customer financial information and providing recommendations as to which loan products best fits the customer's needs. He will also be responsible for continued business development.
Wilhoit graduated from the University of Central Oklahoma with a Bachelor of Business Administration. He is also a graduate of the Oklahoma Bankers Association's Consumer Lending School, Leadership Academy and Intermediate Banking School. Kerry completed Leadership Norman and was a member of Tomorrow's Leaders sponsored by Norman Chamber of Commerce. He has been involved in several civic and community organizations including past President of The Heart of Oklahoma Chamber of Commerce and past board member of Mary Abbot Children's House. Wilhoit is currently the President of the Purcell Public School Foundation and a board member of the Purcell Rotary Club. He lives in Purcell with his wife, Sharie and their two children, Klaire and Karter.
Stephanie Gentry began working at McClain Bank in May 2006, as a teller. In 2008, she was moved to the Bookkeeping department. Her duties involve an array of bookkeeping services and administrative reporting for the Bank, as well as ACH and other customer service responsibilities. Stephanie is chair of the Bank's Wellness Committee, a graduate of the 2012 Leadership Mid America, and also chaired the Heart of Oklahoma Relay For Life for two consecutive years.
Stephanie is a graduate of Lexington High School. She lives in Purcell with her husband Gary, who works in Sales and Finance at Floyd's RVs in Goldsby, and their fur baby Cash.
Eric Selby began working at McClain County National Bank in August of 1995 while still in High School and continued after graduation. Eric has worked in many areas of the bank, including Teller, New Accounts/Customer Service, Bookkeeping, Proof, Loan Processing/Filing, and ATM maintenance. In 2010, his duties began to focus more on advertising and promotional items. He also oversaw the McClain Bank website revision and launch in 2015. In his role as Marketing Officer, Eric will concentrate on the Bank's image and branding, customer needs and community involvement.
---
ATM Upgrades
October 15, 2015

The ATMs at United in Purcell and both the Norman & Noble branches have been upgraded to be EMV Chip Card compatible. You'll notice the transaction process has changed somewhat. Most notably, once inserted in the card reader, the ATM will now hold your card for the duration of your transaction(s). Don't forget to answer "NO" when asked if you would like to complete another transaction so that your card will be returned. If you have any questions, please feel free to call us at (405) 527-6503.