McClain County National Bank was chartered on March 8, 1922, right here on Main Street in Purcell. Officers at the time consisted of John H. Perry as President, E.L. Sheets as Vice President, and John H. Wells as Cashier. Six months later, at the close of business on September 15, the Bank had total assets of $298,212.95. In 1927, the Bank purchased Chickasaw National Bank of Purcell.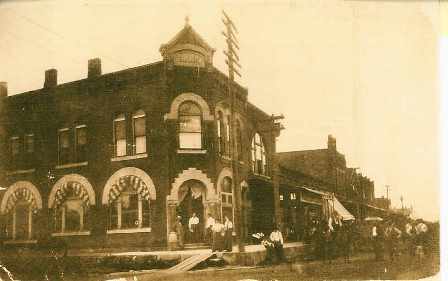 The Sherman family's involvement with the Bank began in 1935 when Earl Sherman began working here. The next year, he convinced his brother Neil, who was teaching in Lexington, to come work with him. That same year, 1936, the Bank purchased the First State Bank of Wayne. In 1941, the Bank also purchased the Byars State Bank.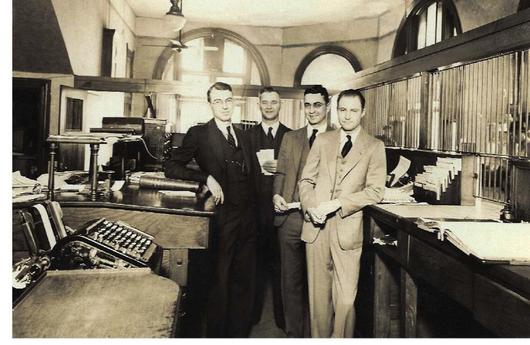 Pictured (l-r): Earl Sherman, V.V. Haney, Neil Sherman, and Almer Ellison
By 1955, control of the bank was vested in two families - the Wells and the Shermans. But in 1980, the Sherman Family acquired complete control of McClain County National Bank.
In 1990, the FDIC closed the First National Bank of Purcell and First State Bank of Lexington. The Bank purchased both from the FDIC.
A new millennium brought a new name, with McClain County National Bank changing its name to McClain Bank in 2001 in preparation of increased presence in Norman and Cleveland County. On October 22, 2002, the McClain Bank Norman Branch held its ribbon cutting at 2900 W Lindsey. The facility is located on five acres. On April 4, 2007, the McClain Bank Noble Branch held its ribbon cutting at 213 N Main Street.

Bank Logo Progression: Logos used beginning in 1922, 1994, and 2001, respectively.
It's been a long time since Earl began working at the Bank in 1935. He served as President from 1955 to 1977 and then served as Chairman of the Board until his death in 1999. Neil succeeded his brother as President and served in that capacity until 1988. He passed away in 1990.
Neil's son, Don, had over 55 years of service at McClain Bank. He served as President from 1988 to 2001 and Chairman until his death in 2016. Meanwhile, Earl's son, Charlie, began his career with the Bank in 1974. Following in his father's footsteps, he became McClain Bank's Chairman in 2016.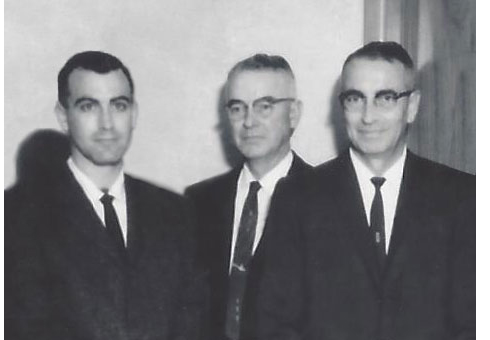 Pictured (l-r): Don Sherman, Earl Sherman, and Neil Sherman in the 1950s
Steve, who is Neil's grandson and Earl's nephew, was born in Purcell but raised in Arkansas City, KS after his father Jim (Don's brother) was transferred there with the railroad. After attending K State and graduating with a Finance degree, he came back to Purcell and joined the Bank in 1983. He is currently the Bank President. Don's son, and Neil's grandson, Donald worked at the Bank throughout high school and then pursued an accounting degree followed by working for the OCC as a bank examiner, as well as working for Price Waterhouse and Liberty National Bank. He rejoined the family business in 1992 as Controller. He currently serves as Chief Executive Officer.
To date, McClain Bank has had eight Presidents:
John H. Perry (1922-1936)

John H. Wells (1936-1955)

Earl L. Sherman (1955-1977)
J. Neil Sherman (1977-1988)

Don N. Sherman (1988-2001)

Charles L. Sherman (2002-2015)

Donald N. Sherman, II (2016)

Steven J. Sherman (2016-present)
McClain Bank is a place where our employees feel like part of the family. This is evidenced by the longevity of our employees, which is recognized and rewarded yearly. Bank wide, the average years of service for an employee is almost 15 years. In our Lending Department, this number jumps to almost 20 years. The Bank and its employees are actively involved in supporting numerous communities in McClain and Cleveland Counties. Over the years, the Bank has served several generations of Oklahomans for their family and business financial matters.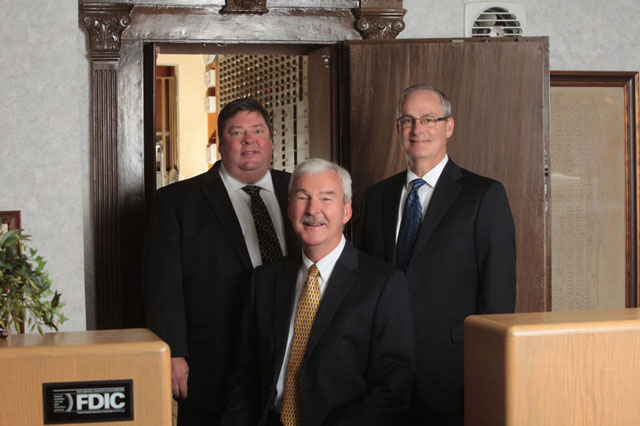 Pictured (l-r): Steve Sherman, Charlie Sherman, & Donald Sherman
At McClain Bank, we are continually preparing for the future by expanding our technology, products and services for our customers benefit. Additionally, McClain Bank is consistently rated 5-Stars by BauerFinancial, signifying McClain Bank as one of the strongest institutions in the nation. And while a lot has changed in the past 101 years, some things will always remain - like timeless values and exceptional customer service. Come see us... We'd love to be your bank.
McClain Bank currently operates locations in Purcell, Norman, and Noble. See more
location information
.
McClain Bank - Strong and Steady, Since 1922